What is a Tooth Filling?
A tooth filling is a dental restoration used to repair damaged teeth. Fillings can be made from a variety of materials, including gold, silver, and porcelain. However, if you're looking for a tooth filling in Bali, the most common type of filling available is made from a composite resin, which is a mixture of plastic and glass.
If you're looking for tooth filling in Bali, composite fillings may be a good option for you. These fillings come in a variety of colours, which makes them less visible than other types of fillings. They are commonly used to treat cavities, cracked teeth, and worn-down tooth enamel.
If you need a tooth filling in Bali, the procedure typically begins with cleaning the affected tooth and numbing the area with local anaesthesia. The dentist then removes the damaged tissue and any decay using specialised tools. Once the site is prepared, the tooth is filled with the chosen material, which could be composite resin if you're getting a tooth filling in Bali.
Once the filling is in place, it is polished and smoothed to ensure a comfortable bite. In most cases, fillings can last for many years with proper care.
Also check our article: 5 Different Types of Dental Fillings
Broken Tooth Fillings
A broken tooth filling can be a painful and debilitating experience. In addition to the discomfort, it can also lead to other problems such as infection, tooth decay, and gum disease. The best way to deal with a broken tooth filling is to see a dentist as soon as possible.
They will be able to assess the damage and decide on the best course of treatment. In some cases, the filling may be able to be repaired. However, if the damage is more severe, it may require a complete replacement. In either case, it is important to get the issue resolved as soon as possible to avoid further complications.
Front Tooth Fillings
A front tooth filling is a dental procedure in which a tooth-coloured material is used to fill a cavity in a front tooth. This type of filling is also known as an esthetic filling. The most common reason for needing a front tooth filling is tooth decay. Tooth decay is caused by bacteria that produce acids that eat away at the enamel of the tooth.
Once the enamel is damaged, the bacteria can reach the inner layers of the tooth, causing further damage. If left untreated, tooth decay can lead to pain, infection, and even tooth loss. A front tooth filling can help to prevent these problems by restoring the damaged tooth and preventing further decay.
Wisdom Tooth Fillings
A wisdom tooth filling is a type of dental filling that is used to fill in the space where a wisdom tooth was removed. Wisdom teeth are the third molars, which are the last teeth to erupt in the mouth. They are typically not needed and can cause problems if they become impacted.
When a wisdom tooth is removed, it leaves behind a hole in the jawbone. A wisdom tooth filling fills this hole and prevents further problems. Wisdom tooth fillings are made from a variety of materials, including gold, silver, composite resins, and porcelain. The type of material used will depend on the location of the filling and the preference of the dentist or patient.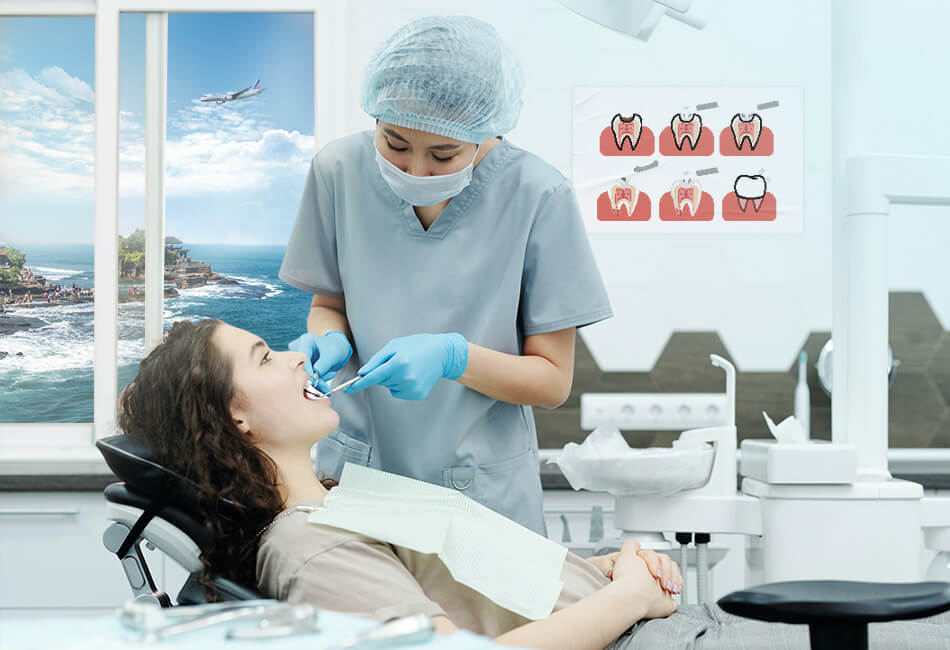 Bali Dental Voyage Tooth Filling Before and After Gallery
At Bali Dental Voyage, we are proud to offer our patients the latest in dental technology and techniques. Our tooth filling before and after gallery is a testament to our commitment to providing the best possible care.
Our team of skilled dentists and dental assistants are dedicated to providing each patient with a personalised treatment plan that meets their unique needs. Whether you need a simple filling or a more complex procedure, we are confident that we can provide you with the results you are looking for.
Bali Dental Voyage is the leading provider of dental holidays to Bali from Australia. We offer top-quality dental care at an affordable price, with all work carried out by experienced and qualified dentists. Our clinic is based in the heart of Bali, close to all the major tourist attractions, so you can combine your dental treatment with a relaxing holiday.
We offer a free consultation to all new patients, so you can find out more about our services and what we can do for you. We also have a no-obligation quote policy, so you can be sure you are getting the best possible value for money. Contact us today to learn more about our dental holiday packages to Bali from Australia.